The research on sleeping financial giants has an explicit goal to engage in dialogue with the financial sector and other relevant stakeholders. Some of the key collaborators are the UNEP Finance Initiative, and the UN-supported Principles for Responsible Investment (UNPRI). The project also aims to reach wider audiences through a series of outreach products and other communication efforts. See some previous examples below.
Archived events:
• New York, 24 September, 2018: Launch of report: Global Systemic Risks and Earth System Tipping Points – at SDSN Leadership Council Meeting. Download invitation here.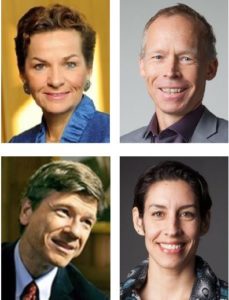 Christiana Figueres, Convenor, Mission 2020
Johan Rockström, Director, Potsdam Institute for Climate Impact Research
Jeffrey Sachs, Director, SDSN
Beatrice Crona, Associate Professor, Stockholm Resilience Centre
Moderator: Josh Tewksbury, Colorado Global Hub Director, Future Earth
• London, 23 March, 2018: Dialogue meeting with representatives from the finance sector, co-hosted by PRI, the UN-supported Principles for Responsible Investment.
• Stockholm 25 November, 2017: "The People Behind The Financial System": art event intended to make visible the people and hidden power structures behind the global financial system. The event took place 27 November at Konsthall C in Stockholm and was co-hosted by the artist duo "They Are Here" in collaboration with the Stockholm School of Economics.
• Stockholm, 5-6 June, 2017: Workshop at the Royal Swedish Academy of Sciences with representatives from Earth system science and the financial sector.
Talks: